About the Author
Janet's love affair with history began as a child when she eagerly listened to stories of her pioneer ancestors. After earning a master's in journalism with honors from the University of Oregon, she taught college writing and wrote freelance for newspapers. She lived and worked in San Francisco, Kalispell, Montana, and other places, including several cities in Oregon.
Her first published book, A Place of Her Own: The Legacy of Oregon Pioneer Martha Poindexter Maupin, portrays the story of her remarkable great-great-grandmother who came west over the Oregon Trail. Janet's second published book, The Shifting Winds, delves into the same Oregon pioneer era. A native Oregonian, Janet grew up on the farm Martha bought more than 150 years ago.
Janet's passion for both history and travel led her into a new venture after she visited the ancient ruins of the City of Knossos in the exotic Greek Isle of Crete. She became fascinated with the people known today as Minoans, who apparently lived in peace and splendor at Knossos while warriors stormed across lands surrounding them.
Archeologists found so much evidence of strong women there, some believed it could have been a matriarchy. Janet has written a series set in that world. The legendary Cretan mariners sail to the ends of the Mediterranean and beyond, even to another place of strong women, Ireland, as well as the lands of pre-Greek Mycenae, Iberia, England, and places in between.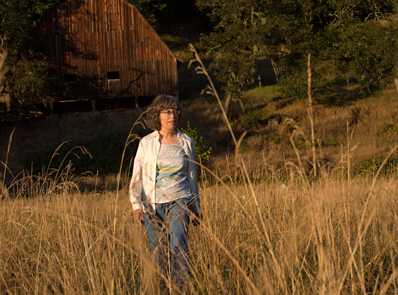 The picture above shows Janet strolling across a pasture on the farm's river bottom, with the old barn in the background, built shortly after Janet's father, Eugene Fisher, acquired the property in 1933.
Award-winning photojournalist Robin Loznak, Janet's son-in-law, took the above photo. Robin and Janet's daughter Carisa also live on the farm.
Photos below show Janet enjoying the legacy of the family farm in her early years, giving a curtsy in her overalls at about age five, riding her favorite mare, Fleet, at about fifteen. Janet's love of horses shows up in many of the stories of her upcoming series set in the ancient worlds.
Memberships include the Historical Novel Society, Pacific Northwest Writers Association, Willamette Writers, Women Writing the West, and An Association of Writers.